build strong & healthy hands with guitarstrength
a comprehensive self-care method for guitarists
want to play better, faster, easier, without pain and injuries?
get ready then - the course will launch in...
the
majority of musicians

suffer from musculoskeletal problems at some point in their career

Symptoms for guitarists include muscle or joint complaints (especially wrist pain and hand pain), numbness or 'pins & needles', inflammation, weakness, loss of control or movement, or simply general tightness and discomfort.

The hands, wrists and forearms are most commonly affected, but problems can arise in the elbow, shoulder or neck region, or even in the spine.
guitarstrength brings you the best of movement therapy with simple & effective exercises so you can take care of yourself – forever
relieve pains and stiffness
Instead of chasing symptoms or spending weeks resting, you will be able to tackle the underlying causes.
boost performance
The condition of your hands and arms define your performance. Improved function means you can play better and faster.
learn self-care routines
Learn the most effective ways to offset the negative effects of playing guitar, so you can play as much as you want.
plus: a
key skill

for every guitarist

Being mindful of what is happening inside your body is often the missing ingredient when you are trying to achieve high performance. Top guitarists (and other professionals, such as athletes and artists) can do what they do, because they have mastered body awareness – and thus, control and speed.

In addition to helping you improve the physical state of your hands and arms, guitarstrength places great emphasis on developing body awareness, so you can:
improve your playing and technique faster, or break plateaus
play with more ease, and be more expressive
recognize the first signs of overuse, and take action
helping guitarists 
since 2017
The first version of this course was offered locally, with great success – guitarstrength is version 2.0, bringing it to a whole new level.
I struggled with recurring wrist pain for months, which made playing guitar almost impossible. I started doing the learned techniques, and my symptoms were completely gone in 3 days. My girlfriend also had a similar wrist problem because of her office job, and the exercises helped her as well.
I haven't even finished the online course yet, but the exercises I've done so far (nerve mobilizations, and the ones with the ball) have decreased my wrist problems. There is a noticeable reduction in stiffness and pain when I play guitar.
The ganglion is still there on the inside of my wrist, but it seems to be getting smaller and softer.
I started playing guitar more than 15 years ago and have had tendonitis twice. This time around, the learned exercises helped a great deal – especially the nerve mobilization technique, as it instantly revitalizes my whole arm, improves circulation and aids regeneration.
I lift weights and play guitar… I had wrist pain, especially on the left side, which was fractured years ago. The method is easy to follow and helps me stay pain-free.
I bought the course and it actually taught me how to play guitar (even though it's not about technique). Specifically, it made me realize what I had been doing wrong for decades. It looks like it's possible to make serious progress over 50 [years of age], but if the technique is faulty, there will be none, despite hours of daily practice. I learned from well-known jazz guitar teachers, and none of them said anything about these things.
By the way, I had problems with my picking hand. Now I can handle long sessions much better with no numbness at all, and I don't feel as stiff as before. So it's really worth paying attention – it's like a sport, you need maintenance : )
Very very important stuff, I wish I had heard about it sooner…
Read

more

Articles about guitarstrength, health, performance and playing guitar.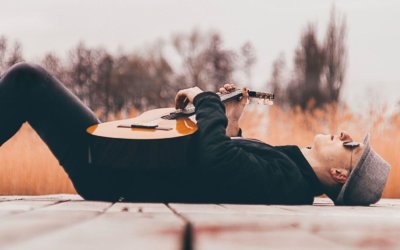 Learn why chronic issues (like hand or wrist pain from guitar) don't respond well to rest, and what to do instead.
It's a common misconception that resting is the best remedy for musculoskeletal issues, and that's one of the reasons why many musicians don't do anything about their problems – fear that they will be forbidden to play for weeks or months.